sale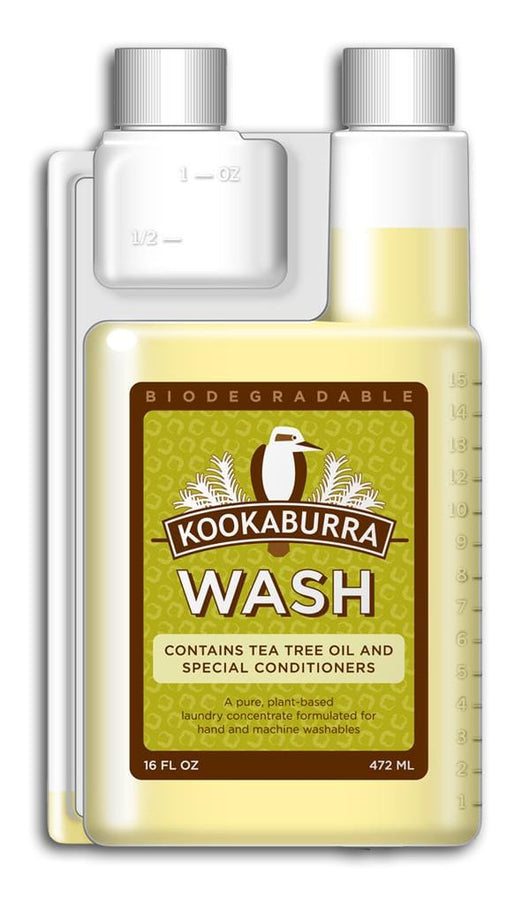 Kookaburra Wash - 16 ozs.
Regular price $16.99 $12.99 Sale
---
Limited Items Selling Fast
poup with stuff in it
close
---
Lambskin Shampoo & Woolwash
Kookaburra Wash contains Lanolin and Tea Tree Oil. A pure Plant-based laundry concentrate for Hand & Machine Washables.
Kookaburra Wash combines the natural deodorizing power of Tea Tree Oil with the conditioning and fiber enhancing qualities of Lanolin. Together they efficiently clean and extend the life of your washables.
Kookaburra Wash is ideal for all your washables, including woolens, fleece and down pillows, sleeping bags and sheepskin products. Because our products contain no harsh chemicals your garments will look new longer. Kookaburra products contain no enzymes, phosphates, peroxide, or alkali which makes them perfect for people with skin sensitivity.
Our Special Conditioners make adding fabric softeners to your laundry unnecessary. Our conditioning agent, based on Coconut and Jojoba bean oils, enhances the luster and softness of all fibers.
Kookaburra products are earth friendly laundry and cleaning concentrates that Harness the Natural Cleaning Power of Mother Nature.
To fill the measuring chamber: (16 oz) Remove the cap and gently squeeze the bottle until contents reach the desired level.
Laundry Instruction: Woolen, and Blended Washable Products: Always follow garment manufactures directions.
Top Loading Machines: Measure 1-2 fl. ounces for a large load and half the quantity for a small load. Front loading (HE) machines use ½ to 1 ounce.
Hand wash: Measure 1 tsp. to 1 gallon of cold or lukewarm water. Rinse with cold water.
Drying: Follow manufacturer's directions.
Sheepskin: Use 2 ounces of wash per skin to launder and maintain the comfort and therapeutic properties. Our unique wash removes stains while lubricating both skin and wool fiber. High temperature sheepskin may be washed in temperatures up to 170 F.
Contains no enzymes, phosphates, peroxide, or alkali. Colorfast.
Keep out of reach of children.
Our products are plant based cleaners that are safe for all septic systems and the environment.
Contains Nut Oil.
Real time shoppers on site
stock running low.