sale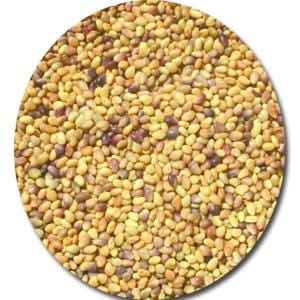 Bulk Clover Seeds, Red, Organic - 25 lbs.
Regular price $160.75 $140.75 Sale
---
Limited Items Selling Fast
poup with stuff in it
close
---
Mild flavor, mild crunch, big time nutrition, Clover is easy to grow, and produces a beautiful green leaf which is lighter green than Alfalfa.
Vitamins A, B, C, E and K, Calcium, Iron, Magnesium, Phosphorus, Potassium, Zinc,Carotene, Chlorophyll, Amino Acids, Trace Elements.Protein: 35%
Seed Shelf Life at 70° is 3-4 years.
Seed to Sprout in 5-6 Days
Sprout Shelf Life 2 weeks or more
Basic Sprouting Instructions: Place in a roomy container such as a quart (using up to 1 teaspoon of seed) or gallon jar (up to 3 tablespoons of seed). Soak in warm water 4 to 6 hours using enough water to keep seeds covered with water. Cover with a loose woven fabric, nylon stocking or mesh secured down by elastic or a rubber band. Rinse and thoroughly drain 2-3 times daily until sprouts are of desired length. Sprouting them in indirect sunlight will help them develop green leaves.
Nutritional highlights: Vitamins A & C; trace elements.
Suggested uses: Breads, salads, sandwiches, soups.
Real time shoppers on site
stock running low.