sale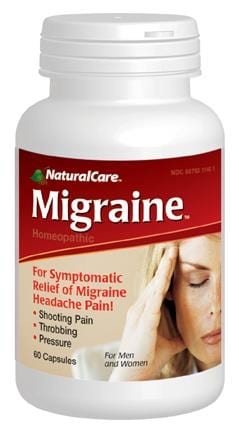 Natural Care Migraine Relief - 60 caps
Regular price $23.99 $15.99 Sale
---
Limited Items Selling Fast
poup with stuff in it
close
---
Migraine Relief
For symptomatic relief of migraine headache pain! Shooting pain, throbbing, pressure. For men and women.
Migraine has been formulated with the highest quality, all-natural, proprietary homeopathic formula in strict compliance with the Homeopathic Pharmacopoeia of the United States.
How many get migraines? About 26 million Americans have migraines, of those 11 million suffer moderate to severe migraines that are disabling. The world Health Organization estimated in 2003 that 303 million people worldwide get migraines. In 2004 there was an estimated 20 million migraine attacks happening every day. Over a year, it is estimated that 90% of the population get at least 1 headache.
Who has migraines? 25% of women and 8% of men get migraines sometime in their lifetime. Most migraines occur between the ages of 25 and 50.
Migraine Symptoms: Only approximately 60% of migraines are one-sided. 15% of people with migraines always get migraines on the same side. 80% of those with migraines deal with nausea, but only 30% actually throw up. 80% are sensitive to light and noise, most often light. 45% have autonomic symptoms, which can include congestion or redness of the eye.
Migraine Triggers: There can be many triggers and they can be personal. 85% report that something triggers the migraine. These can include weather (up to 50%), missing a meal (40%), stress (about 50%), and various types of food (45%). About 50% of women report menses as a trigger. Over 50% considered crying to be a trigger.
How often? 38% suffer from 1-12 each year. 38% get 1-3 per month. 37% get 1 per week, and 11% get 2-6 per week.
Indications: For symptomatic relief of migraine headache pain.
ACTIVE INGREDIENTS: Belladonnna 6x, 12x; Bryonia alba 6x, Cimicifuga racemosa 6x, Coffea Cruda 12x, Epiphegus 6x, Gelsenium 6x, Iris versicolor 6x, Melilotus 6x, Natrum muriaticum 6x, Onosmodium 30x, Pulsatilla 9x, 30x, Sanguinaria Canadensis 6x, Scutellaria lateriflora 6x.
OTHER INGREDIENTS: Butterbur, Feverfew, Gelatin, Glycerin, Green Tea, 5-Hydroxytryptophan, Magnesium AAC, Magnesium Stearate, Pyridoxine HCL, Riboflavin, Silica, Titanium Dioxide.
Directions: Adults and children 12 years of age and older. Take 2 capsules at the earliest sign of migraine symptoms, and if needed every 4-6 hours while symptoms persist. For severe conditions, 2 capsules may be safely taken every 2-4 hours while symptoms persist. Do not exceed 16 capsules per day. Children under 12 ask a doctor before use.
Warnings: If pain persists, gets worse, or if new symptoms occur, consult a doctor to rule out a more serious condition. If you are pregnant or nursing, seek the advice of a health professional before use. Not intended for use by phenylketonurics or persons with high blood pressure. Do not take with MAO inhibitors. Keep out of reach of children.
Double safety sealed for your protection and product freshness. Do not use if seals are missing or tampered with.
Made in U.S.A.
Real time shoppers on site
stock running low.