sale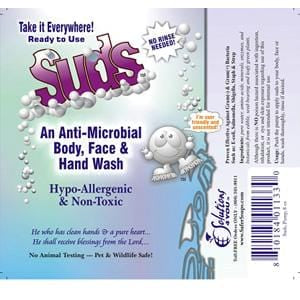 Safer Soaps Ultra Safe Suds Sanitizer Ready to Use, Unscented - 1 gallon
Regular price $33.50 $29.50 Sale
---
Limited Items Selling Fast
poup with stuff in it
close
---
Ultra Safe Suds Body, Face & Hand Sanitizer is an anti-microbial, hypo-allergenic and non-toxic natural soap formula that is a "Natural Hand Sanitizer". Our Suds Pump is a totally safe non-aerosol, non-fumigating, reusable container that dispenses our Ultra-Safe Suds. It is designed for daily use on your body, face and hands. Our Suds Pump is one of our most popular products among adults and children. They are used in the bathroom, garage and kitchen at home.
No rinsing needed.
Proven effective against Gram(-) & Gram(+) Bacteria such as: E-coli, Salmonella, Shigella, Staph & Strep.
Ingredients: Pure Water, Amino Acids, Minerals, Enzymes and Botanicals from edible, seed-bearing and leafy green plants.
Usage: Push the pump to apply suds to your body, face or hands, wash thoroughly, rinse if desired.
Real time shoppers on site
stock running low.