sale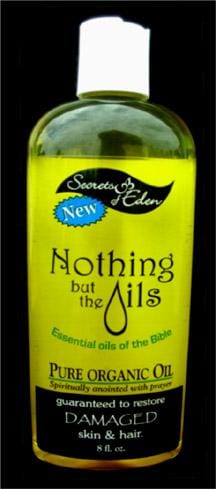 Secrets of Eden Nothing But the Oils - 8 ozs.
Regular price $46.75 $29.50 Sale
---
Limited Items Selling Fast
poup with stuff in it
close
---
Secrets of Eden Nothing But the Oils
Nothing but the Oils contains no water, emulsifiers, or preservatives; only pure organic oils.
You hold in your hand the exclusive blend of age-defying essential Biblical oils originally found only in "The Secrets of Eden - Total Hair and Body Moisturizing Shampoo."
Spiritually anointed with prayer, Nothing but the Oils absorbs deeply into your skin while providing vital nutrients and healing to your body. Regular use leaves dry and damaged skin moisturized and youthful.
INGREDIENTS: Pure Sweet Almond Oil, Apricot Oil, Avocado Oil, Aloe Vera, Olive Oil, Coconut Oil, Castor Oil, Oil of Oregano, Vitamin E, Lemon, Lime, and Orange Oils, Grapefruit Seed Extract, Lavender, Tea Tree Oil, Myrrh, Hyssop, Frankincense, Spikenard, and Ylang Ylang.
Directions: For best results use daily, massaging into skin and hair allowing this miraculous formulation to absorb freely.
Made in USA
LABEL CONTENT NOTICE: The opinions expressed on the labels of the products we carry are not necessarily those of Azure Standard Management or Staff.
Real time shoppers on site
stock running low.