sale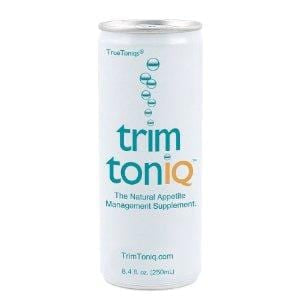 True Toniqs Trim Toniq (Loose Pack) - 24 x 8.4 ozs.
Regular price $67.75 $58.75 Sale
---
Limited Items Selling Fast
poup with stuff in it
close
---
Trim Toniq is an appetite suppressant tonic that takes the edge off of being hungry. What makes us unique is that we use no stimulants to get this effect: no caffeine, no hoodia. Instead, we use 8 active ingredients, some of which have clinical studies showing their ability to curb appetite.
In the past, people thought that drinking beverages with fake sweeteners with such names as Aspartame, Splenda, NutraSweet, and Equal was not only a good idea, but a good way to manage their weight. So far, it's safe to assume that as a cultural experiment—and for fascinating biological, metabolism and chemical reasons—this "diet drink" approach hasn't been working.
Trim Toniq takes a different tack to this. It recognizes that one of the most overlooked aspects of weight management is volume control—simply, how much we end up eating and overeating at most meals and snacks throughout each day.
If you love food, then you're in the good company of tens of millions of others who find that most meals are eaten to excess; meaning that instead of stopping at the amount that the body will actually need for that day, the tendency is to continue eating past the point of need, and well into the area of surplus.
It doesn't take a lot to realize that this surplus adds up. If you totalled all of the meals you've eaten in the past month, and then added in the snacks, the desserts, and the beverages, it's probably more than your body actually used. Thus: excess weight.
Trim Toniq utilizes some of the world's best herbs and natural compounds that have potential for curbing appetite. Some, like InnoSlim™ and AimSlim™, are proprietary blends whose clinical studies show a propensity to reduce caloric absorption in the intestines. The CLA (conjugated linoleic acid) we use, called Tonalin™, have FDA-approved claims, including 1. helps decrease body fat 2. increases the rate of fat burning 3. helps increase lean body mass
Others Trim Toniq ingredients, like coca leaf extract, have a long history with traditional people for working to lower the desire to overeat.
Serving Size 8.4 oz.
Calories 25
Total Fat 1g 2%
Total Carbohydrate 4g 1%
Sugars 2g
Potassium 25mg 1%
Trim Toniq Proprietary Blend 3450mg
Conjugated linoleic acid (CLA)
Inositol
AimSlim prickly chaff flower (seed)
L-carnitine
Tribulus terrestris (puncture vine) (leaf)
Irvingia gabonesis (African Mango) (seed)
InnoSlim Proprietary Blend:
Ginsenosides (tienchi ginseng) (root)
Astragalus (root)
Erthoxylon coca extract (leaf)
Citrus aurantium (bitter orange) (peel)
Other Ingredients: Carbonated Water, Cranberry and Chokeberry Juice Concentrate, Natural Citrus Extracts, Stevia Extract, Monk Fruit, Citric Acid
CLA - Conujugated Linoleic Acid: CLA is a fat found in meat, dairy foods and oils that has been shown to help reduce bodyfat, especially around the belly, according to American Journal of Clinical Nutrition.
Inositol - Inositol is a vitamin-like nutrient that is found in bran, beans, and fruits. Its main role is the breakdown of fats and reducing blood cholesterol.
Achyranthes Aspera Seed - Achyranthes Aspera is a tropical plant used for centuries by tribal people to curb their appetite. For Trim Toniq, we use an expensive extract, called AidSlimTM, which has a couple of studies on weight loss.
L-Carnitine - L-Carnitine is a nutrient needed for burning fat to energy. It is a major source for breaking our fat into usable fuel. It is found in highest concentrations in red meat and dairy food, but also nuts, seeds, and legumes.
Irvingia Gabonensis Seed Extract - Irvingia gabonensis is an African tree, also known as Wild Mango. The seeds have reputable studies showing its effectiveness with weight loss. Subjects saw a drop on both LDL cholesterol and body fat.
Ginsenosides and Astragalus - InnoSlim is a proprietary (and highly expensive) formula of these two ingredients. Ginsenosides are the active part—the sparkplug—of Panax ginseng. InnoSlim has a small amount in its mix. Astragalus is a well-known Chinese adaptogen known to improve overall immunity. Adaptogens are any herb that increases the body's resistance to stress, trauma, anxiety, and fatigue.
Erythroxylon Coca Extract - Erythroxylon coca leaves come from a variety of small bush plants mainly in Peru, which is used to make coca tea. There are about 25 varieties of coca, and our manufacturer combines the 5 most useful varieties for our mix. Each variety has 10-14 alkaloids in them. By law, the two illegal alkaloids are removed, leaving the others, which have the appetite-curbing effect. Just as coffee can be decaffeinated, coca leaves can be de-cocainized.
Directions: 1 to 2 cans per day, best when you feel hungry, or before a meal or snack. Please us along with a sensible diet and exercise program. 5 grams carbohydrate per serving. Naturally Gluten Free and Vegan.
Real time shoppers on site
stock running low.